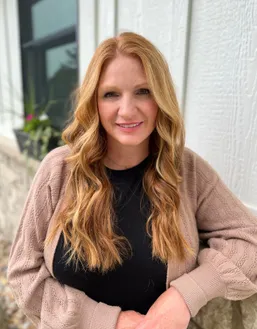 Counseling Intern
Amy Donovan, BA
Areas of Expertise: family issues, divorce, parenting, learning disabilities, behavioral concerns, depression, anxiety, relational aggression/bullying, self-esteem, body image, women's issues, grief & loss
Treatments Provided: Cognitive Behavior Therapy, Motivational Interviewing, Solution-Focused Therapy, Play Therapy, and Person-Centered Therapy
Education: MED Clinical Mental Health Counseling (University of Missouri-St. Louis, anticipated May 2024); BA in Communication (University of Missouri-St. Louis, 2001)
Private pay fee: $50 per individual session (sliding scale sometimes offered)
Amy Donovan (she/her) is a compassionate professional who is committed to helping individuals overcome challenges in their lives. She specializes in working with children, adolescents, and adults, providing them with a safe and supportive environment to explore their emotions, discover their strengths, and develop effective coping mechanisms. Amy firmly believes in empowering her clients and promoting their overall well-being.
Amy's career initially started in corporate communications. Drawing from her professional experiences and life journey, she incorporates these insights into her counseling approach. Amy was born and raised in St. Louis and completed her bachelor's degree in communication at the University of Missouri. She is currently pursuing a master's in Clinical Mental Health Counseling from the University of Missouri-St. Louis, a program accredited by CACREP (Council for Accreditation of Counseling and Related Educational Programs).
As a mother of two school-aged children, Amy understands the complexities of family dynamics and the challenges that parents and children face. She offers guidance on a range of family issues, including divorce, parenting strategies, and effective communication. Additionally, she addresses various individual concerns such as depression, anxiety, grief and loss, life balance, life transitions, relational aggression, behavioral concerns, learning disabilities, self-esteem, body image, and women's issues. Through fostering empathy, connection, and self-awareness, Amy strives to facilitate positive change during critical moments in her clients' lives. She firmly believes that everyone deserves to feel empowered, confident, and fulfilled, and she is dedicated to helping individuals achieve these goals.
Outside of her counseling practice, Amy enjoys spending time with friends and family. She can often be found at the ballpark or gym, cheering on her children in their activities. Amy also appreciates being outdoors, whether it's by the river, in the mountains, or at the beach. Please reach out if you are interested in doing therapy with Amy by contacting us below or calling 314-252-0675.